'seven chapters' homepage screenshot featuring lady grinning soul opened original Metrobolist website blog 2014-2022. This blog was introduced to tell Mike Weller's tale of how original title of David Bowie's third album Metrobolist was lost and found between 2015 and 2020. Rebuilt as archive of those years – digital précis and commentary on 2021's bookartobject Metrobolist7.
beginning here
Metrobolist 1. Uncaught Fruit Flies on Walls and Windows
Mike Weller's Space Opera and the twenty-three tales making up Slow Fiction combine to make mySpaceOpera.
Metrobolist's five chapters may be read and viewed as overture to print/digital bookwork object mySpaceOpera.
Metrobolist: Five chapters may also be read as standalone tales with time sequence 1946-1971 driving narrative.
Metrobolist 1 is an exception, in as much as it introduces the character Weller (Welles) with multiple and playful character identities, defined through a processing typo of words 'phonemic' and 'phenomic'. Metrobolist opens with a stanza from Andrew Marvell's 17th century poem The Definition of Love and closes with a visual montage of found flyers promoting the psychic services of a south London-based African medicine man with an array of multiple personality/playful character identities (eg., Professor Baraka, Mr David, Mr Nanah) that may also be fictional.
Treating typos (i.e., 'phenome') corrections and text addena in pencil, biro, ink, as annotation, brings a visual (typo-graphic) aspect to page units making up story.
| | |
| --- | --- |
| First published | 05 January 2016 |
Metrobolist 2. On the Theme of Light and Dark (Probability A)
Chapter 2 opens with a 2013 quote from The New York Review of Books.
Ian Buruma asks "So who is David Bowie?"
The chapter begins in summer 1957 when a modernist technical school building for boys is completed in Bromley's rural dormitory pocket of Keston, leaving its late Victorian fin de siécle designed technical institute in Beckenham Road with bas relief lettering of words SCIENCE, ART and TECHNICAL INSTITUTE ornamented onto the outside of the building itself.
Joseph Jacob Welles starts his first year at the new Tech and the chapter ends in summer 1962 with Joe Welles planning to return for sixth form at the school. The school is real although names of most teachers and pupil-students of the time have been changed — like characters in a series of dramatized 1950s schoolday plays. Not all names have been tweaked out of the real. Metrobolistic characters are not from some historical black and white children's television. Metrobolist is a colourful and entertaining parental advisory. A fiction tracking reality as documented probability.
Here's a sample from end pages of Metrobolist 2.
One or two boys at the school were to have outstanding careers in years to come. Among them — Roderick Nibayrks. In a very near future Roderick would move to Beckenham and Penge County Grammar School, becoming a celebrated composer of modern music. Bill Wyman was a grammar school alumnus after World War II but few had heard of the Rolling Stones in 1962. In the upper sixth at grammar, studying 'A' level English literature when Nibayrks first joined, was Marcus 'the Mint' Murray; later to become celebrated rock critic, Minty Murray.
Opening with a quote from Philip K. Dick's 1956 novel The World Jones Made and a mock wiki article on Mick Weller's fictional character Ken Tapley — a fourteen-year old David Jones introduces himself to Michael Weller in this short narrative prose and poetry comic beginning 1961. The chapter closes with their 1969 reunion.
| | |
| --- | --- |
| First published | 05 January 2016 |
David Bowie died on January 10 2016 after Mike's first two chapter summaries were published online. A month or so later Mike decided to continue with his story.
Metrobolist 3. A Young Englishman Abroad
Mike Weller's imagined Ken Tapley emerged from 1950s suburban bedroom scribbles. For two or three years before, Weller's fantasy sat among a tech schoolboy's comic-books, sci-fi pulps, 45 rpms, old New Musical Express papers, film, tv & radio fanzines, annuals, pin-up wank mags; Colin Wilson's The Outsider and Jean-Paul Sartre's 'Roads to Freedom' trilogy in paperback.
Eight years after their first meet-up at Bromley Tech's smokers' corner, Jones meets Michael Weller again at a 'folk lab' held in the back of the Three Tuns pub in Beckenham. David and Mick joke about making up a character named "Ken Tapley" for an 'artists union'.
Mike Weller had forgotten this fantasy — deleting the character from his soft mind years before, yet still embedded in his hard brain. For In David Jones, since renamed Bowie: Michael Weller recognised Ken Tapley; a young Englishman abroad at Metrobolist.
| | |
| --- | --- |
| First published | 16 February 2016 |
Metrobolist 4. On the Theme of Light and Dark (docu-track)
Chapter 4 opens with quotes from Hanif Kureishi's 1990 novel The Buddha of Suburbia and MJ Weller's 1995 (Social Reality Earthtime) fiction within a fiction The Man Who Drew Too Much.
Set in 1960-1962: this chapter tells the continuing story of Bromley Tech schoolboy creation Joseph Jacob Welles and his author, the character Mike Weller. Weller is a misfit compared to his model pupil alter ego J.J. Welles. Dreamer Mike is unsuited to technical education whilst Welles excels in the school's vocational science and metalwork needed for future white heat world technology and industry. Illustrator Brian Grimwood and design consultant Aziz Cami succeed in applied art.
And like a classic British comic book schooldays story — this fictionalized Tech is cast with good and evil characters: Teachers Hampton, Walker, Fairbanks, Sprickle, Choat; antisemitic playground bullies Pugh and Luggan; and of course heroic captains of winning teams in wider society and culture. Bromley Tech depicted here is an aboriginal BRIT School and Hogwarts combined. The school has stars in George Haywood and David Jones. And it is arts — not technology — that wins its alumni glittering prizes.
By the mid-1960s future writer-in-the making Karim Amir becomes a first year, joining celebrated older ex-pupils: singer & musician-turned-painter George Haywood; rock musician Chris Hampton — son of lettering & layout master Oli Hampton; contemporary music composer Roderick Nibayrks; and legendary icon David Robert Jones aka Bowie.
Chapter 4 ends in modern 21st century Croydon with the Tech's scientist alumnus Joseph Jacob Welles an elderly man, wondering over fifty years later, whether it is he — or his alter ego, elderly poet and cartoonist Mike Weller, who painted a picture for fine art master Clinton Walker's classwork topic 'On the Theme of Light and Dark'.
Did Welles make the character Weller up, or was it Weller who made up character avatar Welles? And which one of them won top marks in Mr Walker's art class with a painting entitled 'The Metrobolist', exhibited in the school's art block during 1961?
| | |
| --- | --- |
| First published | 19 September 2016 |
Metrobolist 5. Blessed Boys and Girls
Last chapter of bookwork Metrobolist: Five Chapters. Like chapter 1 in the montage, chapter 5 is something of an exception. Of style rather than content in this instance.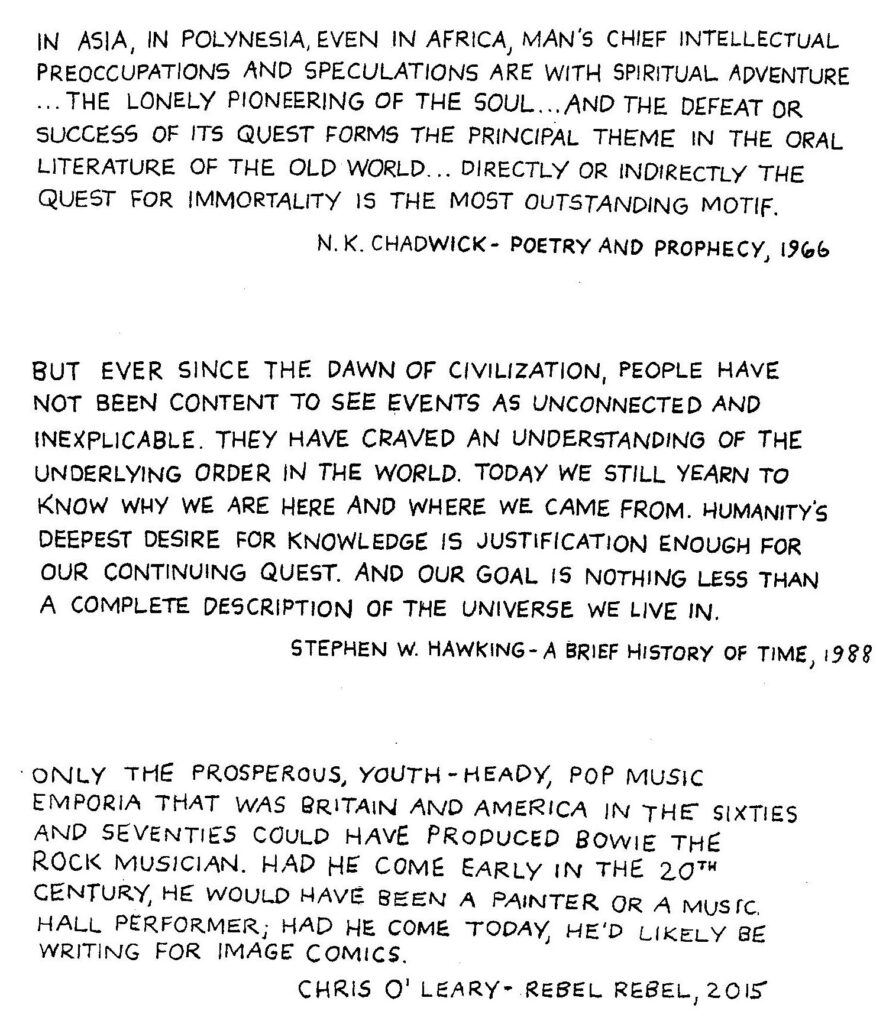 Hand-lettered and vispo'd throughout; chapter 5 takes the form of an "image comic". It takes cue from cartoonist Mike Weller's characterisations of David Robert Jones 1961 – 2015.
In journey from secondary school to arts lab; an ageing south London observer — call him Mick for the fiction — watches an old friend achieve unimagined fame, fortune and an eternal place in the firmament of global iconography.
In Michael Weller's bookworks and spoken-word — DB is depicted throughout his golden years as characters Ken Tapley (author's own singing fantasy figure), John Dagger (pulp fiction comic book 19th century anarchist rebel and 20th century rock star), Starman Jones (Commander of Cosmic Squad sci-fi) and Glitter Glamm (DB's immortal creation Ziggy Stardust as caricatured by Mick Weller).
| | |
| --- | --- |
| First published | 19 September 2016 |
Slow fiction of three colourful cartoon characters
Everything the present author wished to write about David Bowie was published as Metrobolist: Five Chapters between 2014 and 2015.
Metrobolist chapters' précis began at this site 2015. It was inevitable Five Chapters' online posts would need amending and revising after sad news of David's death in 2016. But précised chapters one and two remain here on original date of posting, January 5 2016.
Although Mick Weller is user and supporter of information junkie Jimmy Wales's Wikipedia project, an honest account of David and Michael's original Metrobolist is not included in its current The Man Who Sold the World (album) article. The present writer tried but didn't succeed to effectively add accurate revision to content — it was altered back to an earlier patchwrite. Mick's effort can be found buried in the article's 'Cover art' edit history. Wales's free-to-use-and-edit encyclopedia can attract an obsessional wikipedian concern with erroneous detail resulting in a form perhaps best described as uncreative patchwritten wikifiction.
A telephone interview Mike Weller conducted with John Robinson for music magazine UNCUT's February 2020 Bowie Ultimate Record Collection Part 1 (1964-76) is recommended for its insights and historical accuracy. Or as Mick responded to this edition of UNCUT's archive collection—someone's done research at last!
But Metrobolist chapters have never claimed to be anything other than fiction. Imaginative fiction is sometimes the only mode in which truth be told. Starman Jones made fantasy characters out of experience for the entertainment of himself and his audience. From Ziggy to final identification with vulnerable, ailing, alien Newton — the character Jones first portrayed in Nicolas Roeg's movie of Walter Tevis's The Man Who Fell to Earth.
Perhaps only the small surviving group of people who knew David in childhood; and those close to him maybe in later years, are really able to compare the human-being who lived downstairs until 2016, with Mike Weller's character drawn upstairs as "John Beyond" in a fiction with made-up 16th century actor Kenneth Morris Tapley playing boys and girls in old times.
In his late twentieth century incarnation "Ken Tapley" plays pop and rock musician "John Dagger", doubling as a cultural vanguardist in New Elizabethan Deamtime Reality. By 1958 Weller's secondary world character demanded someone soon play him for real. In this incarnation Ken Tapley is written and birthed by a "lady grinning soul" — glamourous yet obscure handmaiden of suburban 1940s Metrobolist picture houses.
Ken Tapley, preparing for his role as rock 'n' roller John Dagger, in turn playing '70s pop sensation "Glitter Glamm" is blue-suited figure left, accompanied by glamorous lady grinning soul character "Debbie Dagger" centre, and fictional Jinkerman — revolutionary "Mo Stepniak", character right, disguised as worker struck for fame at "The Firm".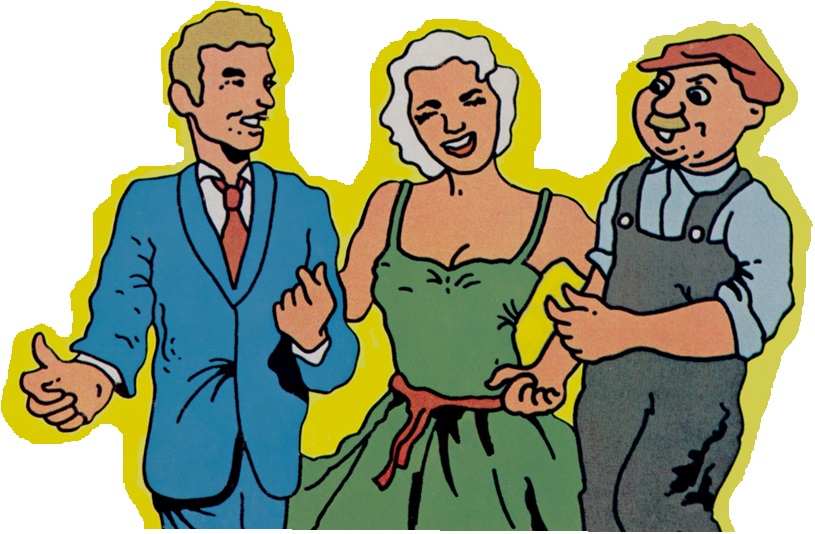 | | |
| --- | --- |
| First published | 30 May 2018 |
opening Metrobolist7
An introduction to Metrobolist: Five Chapters by Michael J. Weller (Home'Baked Books, 2015) was first blogged on the 45th anniversary of David Bowie's The Man Who Sold The World LP release in the USA.
Michael J. Weller's 'Metrobolist' tale is a published chapbook series. Five chapters beginning 1946 finishing 2015.
Mid-2015 there was an idea initiated by Nigel Reeve working for Bowie's record company to release a limited, signed Metrobolist album: a boxed vinyl recording of David's nine songs with the American cartoon sleeve as it was conceived originally, speech bubble filled; opening to reveal a surreal Metrobolist6 gatefold photo story from out-of-time schooldays to Bowie 2015 via Keith MacMillan's 1970 Haddon Hall photoshoot. Same yellow US The Man Who Sold the World back cover with song lyrics and Blue Note Oh By Jingo cartoon trio sans Mercury logo.
Metrobolist7 will explain, in a form of imaginative storytelling, why Metrobolist6 didn't happen, and also, as speculative fiction, suggest how the tale might conceivably end up as parallel alterities—fantasy and actualised document.
Unique serial title & number 'Metroblist6' is suggested by MJ's fictional character "Mart Cert/Alpha Zee" in June 2015 (Social Reality Earthtime) to acknowledge the publication of Mike Weller's Home'Baked Metrobolist5 chapbooks and numerically index the release of Metrobolist as a record album.
In 1970 Metrobolist was the original title Mike Weller and David Bowie agreed on, before Mercury Records decided to disregard their client's instructions. The record company made a mess of material left them to complete— resulting in less options for DB to consider as potential LP presentations in territories other than North America.
Mercury's UK subsidiary Philips Records subsequently released David's preference for a selected Keith MacMillan domestic cover photograph for his emerging homegrown, European and Asian audience—to the applause, it must be admitted, of not only David but just about everybody involved in Bowie's professional management 1970-71.
Despite, or because of Mercury's cock-up, the 'cartoon' or 'wild west' cover always enjoyed a tiny fistful of admirers. Over the years this has turned into a growing number of enthusiasts. And David was the first. Thirty years after the picture was drawn it seemed to grow on him again as time and events passed—and continue to pass.
DB and his New York office gave Metrobolist6 an initial nod in 2015 but that was it.
Sadly, after 45 years, there was to be no reunion or working collaboration between Mick Weller and his old chum making the Metrobolist6 album a social reality.
David's poor health was not, however, the only reason 'Metrobolist6' did not materialize 2015/16.
Back in 2015 other production difficulties emerged. Original lettering, painting and finished artwork had mysteriously vanished from Mercury's archive years before. The lettrist title 'Metrobolist' and comic-book bubble caption had to be hand-drawn again from Mike Weller's memory (with originals 'lost' and only an old 'Metrobolist' lettering sketch in pencil to work from). A newly agreed hand-lettered album subtitle Nine Songs by David Bowie was added.
These in turn needed digitalizing with the best front and back colour reproduction the Bowie Archive had in its possession. A professional art studio began developing the concept with a quote from David in a companion supplement.
Metrobolist6 was intended to be a high-end gold-lettered boxed vinyl article.
In the late 60s, and at the very beginning of the 1970s, David and Mike shared several 'artists union' collaborations, including the decision to share responsibilty for design of DB's third LP. Devised in home counties suburban Beckenham (later caricatured as "Dedbrickton" by Weller) the North American-released album cover resulted in a failed compromise pleasing no-one.
Intended experimental visual poetics were submitted by David himself. This collaborative work by Keith "Keef" MacMillan: and two other novice art professionals, inexperienced in dealing with powerful U.S. music industry game-players, was delivered to Mercury. The record company wrecked it.
For David, Metrobolist was the first and last time during a long and phenomenally successful career Jones lost control of the presentation of Bowie's music and image.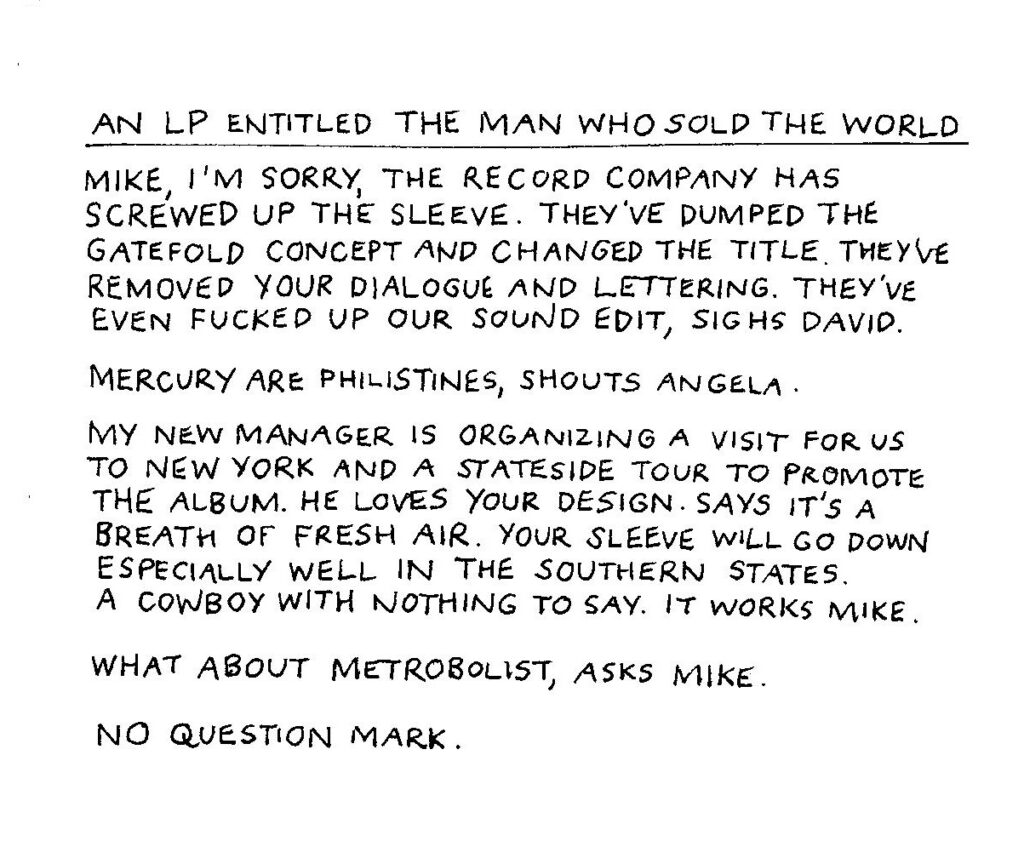 | | |
| --- | --- |
| First published | 30 May 2018 |
Metrobolist6 as actualized document
Mark Adams has provided detailed plans on David Bowie's official website for the release of Metrobolist6 in November as an actualized document.
Mike Weller thanks Tristram Penna, Nigel Reeve and Scott Minshall's highly professional GASwork studios for the realization of Metrobolist6 as real document in vinyl and digital formations.
Tris has already been fictionalized "Mart Sirt (Cert)"/"Alpha Zee" in wellerverse fantasy and fictionalizations of immortal blackstar "Ken Tapley"/"John Dagger"/"Glitter Glamm"/"Starman Jones"/"John Beyond" appears in five out-ot-print and obscure homebaked Metrobolist chapbooks précised here as Metrobolist7 posts.
| | |
| --- | --- |
| First published | 15 September 2020 |
Metrobolist7 bookartobject
Metrobolist7 will explain, in a form of imaginative storytelling […] how the tale might conceivably end up as parallel alterities—fantasy and actualised document.
And so it has turned out to be. Veer Books (London) in association with visual associations has published limited bookartobject Metrobolist 7 dedicated to the memory of my old friend and young days collaborator David Bowie.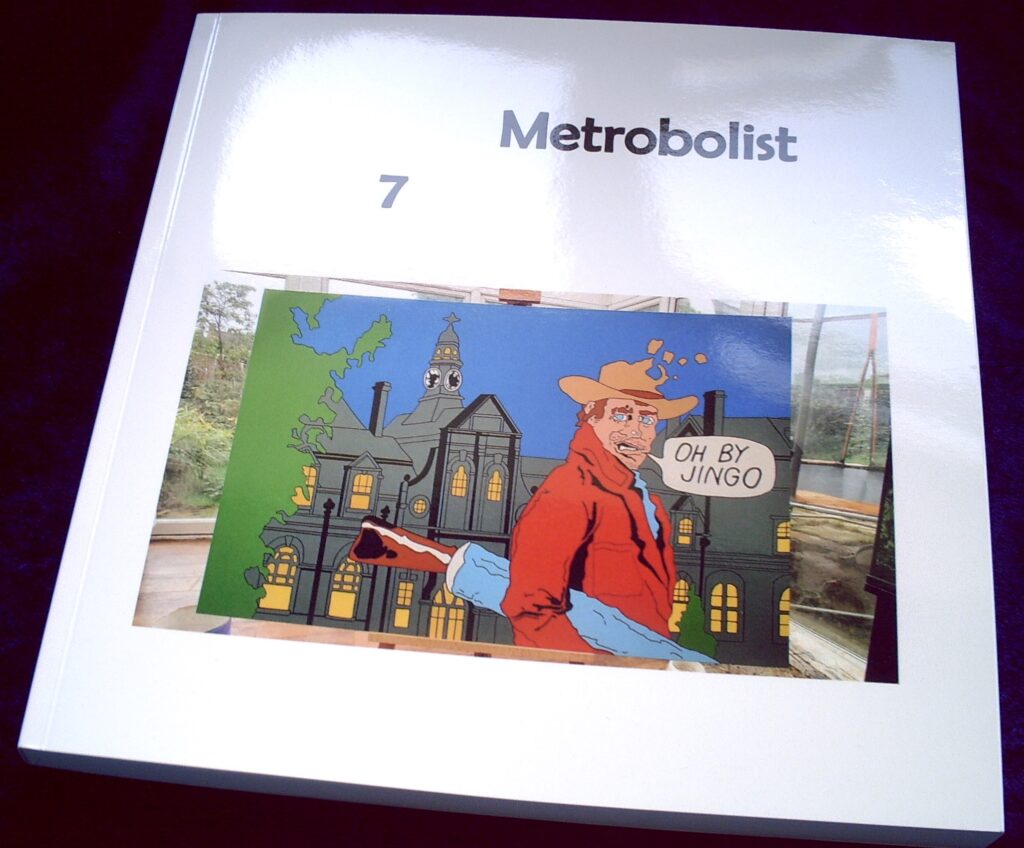 Metrobolist 7 contains Metrobolist: Five Chapters (homebakedbooks 2014-2015) noted on earlier blog postings at this site with cover images and descriptive chapter précis. This bookartobject is filled with newer text including fantasy Metrobolist6 and more art — completing the big Metrobolist picture. Although actualized, catalogued and released as Metrobolist 6, November 2020 (Social Reality Earthtime) as an official 50th anniversary remix on Parlophone, loss of original artworks: and sadly the loss of David himself in 2016, followed by that big elephant man in the laboratory — severe acute respiratory syndrome coronavirus 2 — lessened the chances a re-released The Man Who Sold the World would see light of day.
Between 2015 and early 2020 with possibility a documented Metrobolist would never happen, the present writer designed an imaginary album.
A fictional Metrobolist 6.
| | |
| --- | --- |
| First published | 28 May 2021 |
Metrobolistic studio art
Edspin 13, whose paintings adorn front and back of bookartobject Metrobolist7 has re-painted The Man Who Sold the World in emulsion as possible public art in Brignorth (no, that doesn't read Bridgerton!) Shropshire.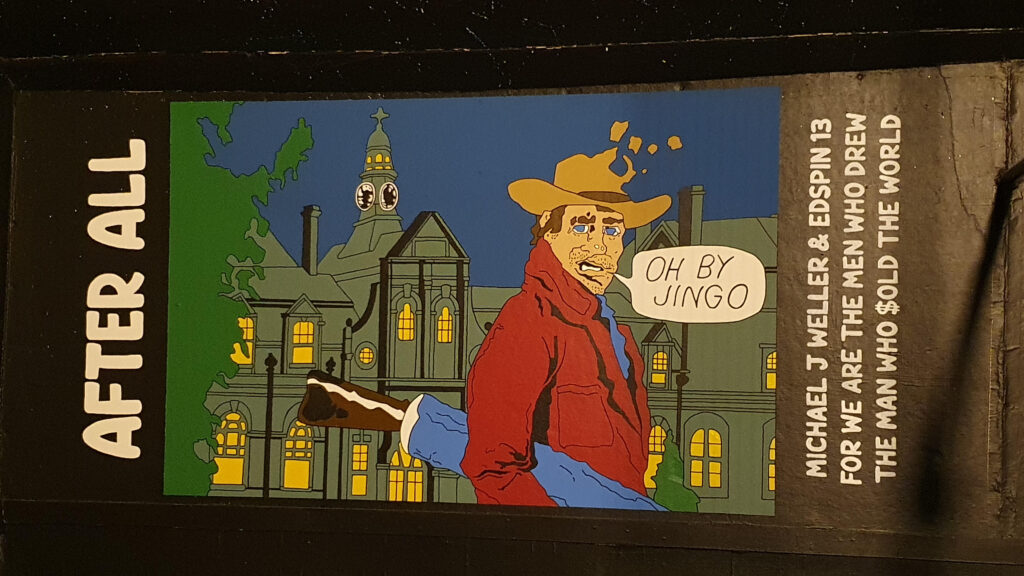 In MJ's Metrobolist fiction – edspin13: lower case "e"; no space between letter-characters e,d,s,p,i,n and numercal symbols 1,3 – is an A.E. Housman Shropshire Lad visual poetry association.
Housmans independent London bookshop garners its trading name from A.E. Housman's younger brother – writer and artist, Laurence Housman.
A surviving copy of Metrobolist Chapter 2 was traded through Housmans bookshop and gifted to fictional visual associate "edspin13" for permission to use Edspin 13's work – successful real life entrepreneur who runs effective word-of-mouth Shropshire cardiovascular spinning classes towards physical fitness – along with holistic art, musical and shamanic exercises towards spiritual healing.
| | |
| --- | --- |
| First published | 10 August 2022 |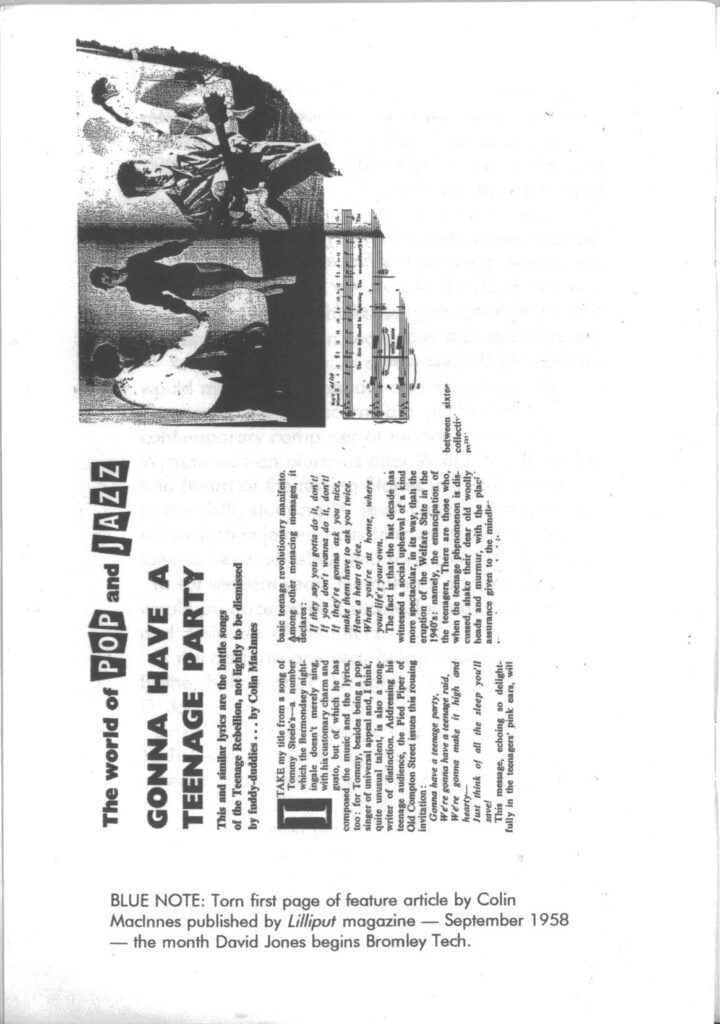 Life and Death of Glitter Glamm and the Sirens of Titan
Some people are born actors
Others learn how to sing the chorus
The gods after all choose their own
Let them come and adore us
Text extracted from John Dagger's song A god-awful small affair written and sung by John Dagger from The Life And Death Of Glitter Glamm And The Sirens Of Titan.
In early 2014 Michael Weller began c(art)oon based on his own small part in the rise and fall of Ken Tapley (fantasy character made up by Mike in 1958 before ceremonial rubbishing by teenage Mick Weller in 1961). Re-born 1983 as Dedbrickton rock god caricature John Dagger. Re-reborn 2016 (Social Reality Earthtime) in shape of immortal interstellar quite extraordinary ultra-emissary John Beyond.
So began chapbook series Metrobolist:Five Chapters – website and this blog – and finally 2021's published Veer Book; précised online as earlier Metrobolist blog posts – and definitive Contemporary Poetics Research Centre (CPRC) Birkbeck's visually associated bookartobject Metrobolist7. Dedicated to the memory of David Bowie (1947-2016).
It is therefore a pleasure and absolute delight for Michael Weller to be invited by curious record collector and producer Mart Cert (he; they) in their Whistleblower production for Lord Reith's archived BBC wireless programme Ziggy@50.
Companion programme Ziggy Stardust: Hang on to yourself is introduced by Ezra Furman (she/her/they/them/us) and produced by zınc communicate (no dotted "i") for BBC world service.
Fictionalized in parallel micromultiverse – Earth Corporation media's EarthCo sound entertainments present audio Life and Death of Glitter Glamm and the Sirens of Titan introduced by Mart Sirt and Ethel Mermaid.
First published 26 October 2022
Metrobolist7
Preview and promotion here. Veer launch here…
| | |
| --- | --- |
| First published | 25 November 2022 |